Il Maestro Alfonso Torregrossa, è un Artista Marziale professionista , è nato nel 1971 a Caltanissetta , ha iniziato a praticare arti marziali, Judo nel 1975 con Alberto Carrubba a Caltanissetta e da allora non ha più smesso di studiare . Ha seguito varie arti marziali con lignaggio Giapponese, Aikido, Karate, Jujutsu e metodi di Autodifesa Israeliani per poi specializzarsi in Jujutsu classico , nello specifico Daito Ryu Jujutsu Renshinkan in Giappone sotto Michio Takase e Israel Self Defense - Kapap sotto Moshe Galisko (Kapap Israel ) .

Studioso e praticante di arti marziali, si è specializzato sotto i migliori maestri, sia in Europa, Israele ,America. E' membro attivo di molte organizzazioni riconosciute dal Governo Giapponese.
Depositario di una forte cultura tradizionale Giapponese è stato insignito di un'onorificenza speciale dal Vice Ministro della difesa giapponese per il suo grande lavoro nella divulgazione del Budo Giapponese in tutto il mondo .
E' apparso in varie riviste nazionali e internazionali ; premiato per la diffusione delle Arti Marziali Giapponesi in Italia e all'estero; ammesso inSerbia come primo Italiano a entrare nel Grand Masters Council of European Martial Arts Hall of Fame .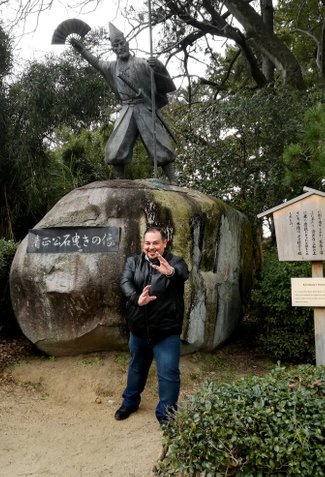 Ha ricoperto in tutti questi anni molteplici ruoli tecnici nazionali, tra cui quello di docente in varie sigle e Enti di Promozione Sportiva , effettuando continuamente seminari formativi in Italia, Europa e all'estero ( Spagna, Francia , Inghilterra , Serbia , Giappone, etcc ) e attività di formazione e addestramento per civili , militari e organi di Polizia .

Ha anche pubblicato alcuni libri sulle arti Marziali reperibili su Amazon .
Pubblicazioni :
La sua filosofia di Educatore Sportivo è quella di trasmettere gioia, positività, passione, entusiasmo e coinvolgimento durante le lezioni aiutando a tirare fuori il lato migliore grazie ai benefici positivi delle arti marziali . Attualmente è il Direttore Tecnico della asd Samurai Dojo 国際武術普及協会 侍道場 di Caltanissetta